Have Some Himalayan Happiness
In celebration of the latest addition to the Cleo range, we have been exploring the wonderous values of Himalayan bath salts. Of course, this is something we want to share with our beloved customers. Discover the history of the mineral, learn about its ample benefits and unlock its potential with our stunning new range of bathing salts, available HERE.
250 million years ago, a primordial sea enriched with the purest of minerals glistened on the face of Pangea, a supercontinent of the earth's land mass. As the shift of the tectonic plates began to create the familiar continental organisation we know today, the collision of the Indian and Eurasian plates induced a strong upwards growth which eventually formed the Himalayas. As the mountains grew, the scorching sun evaporated the ecological, oceanic haven and crystallised the rich minerals it possessed. Thick lavas from the mountains preserved the salt flats and left the newly formed Himalayan rock salts conserved for millions of years. They remain protected to this day from modern pollutants and thus we have great access to this highly beneficial substance.
Whilst we will be exploring the benefits of the Himalayan rock mineral as a bath salt, it is important to acknowledge its prestige quality compared to its salty competitors. Standard table salt is processed with a significant amount of chemicals and dried at over 1,200°F to destruct its natural chemical composition. Himalayan rock salt, conversely, remains virtually untarnished and is kept in rock form or simply crushed to unlock its potential. It embraces its impurities, which not only produce its stunning pink tinge, but provide a diverse and unique range of health benefits just waiting to be discovered.
So, what can Himalayan bath salts do for you?
Salt baths date back to the days of Hippocrates, who first unearthed their potential in 300BC. He noted the therapeutic potential of such a bathing style through observations of its healing qualities on the injured hands of fisherman, whose infections and pain relinquished upon the ease of a salt bath.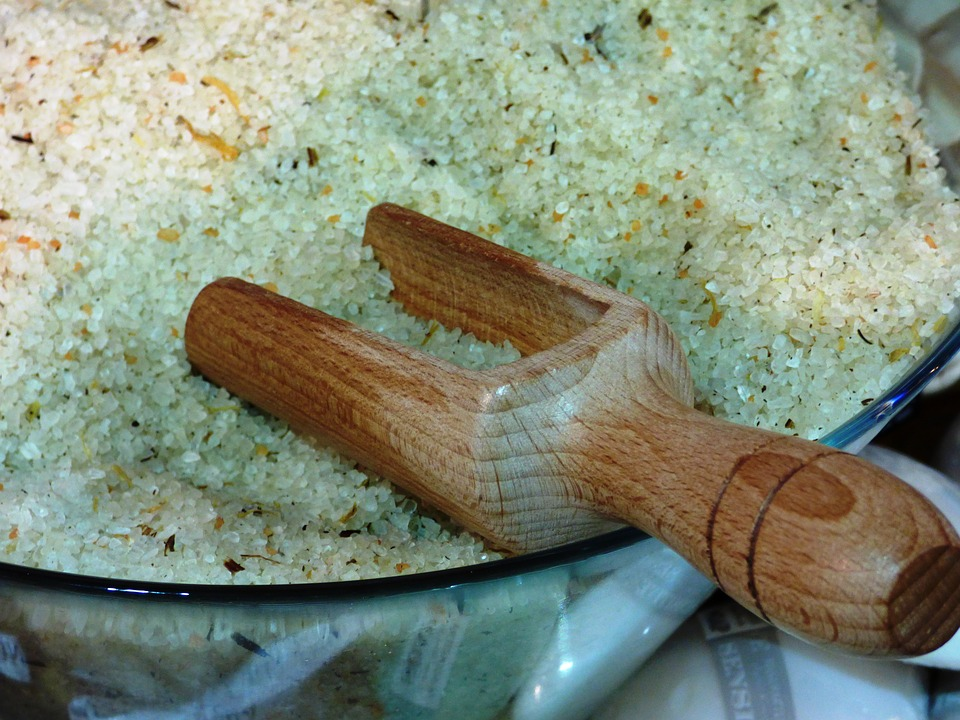 Here are our "Six 'Ations" of Himalayan Salt Bathing.
1. Detoxification
Himalayan bath salts are facilitators of a process known as reverse osmosis. Once dissolved into water the solid particles, rather than being absorbed into the skin, work to extract impurities from deep within the epidermis. The ionic salt solution draws out heavy metals, toxins, pollutants and bacteria in exchange for clean and clear skin. With new estimations suggesting we are exposed to over 2 million toxic chemicals a day, pink salts are an essential in ensuring pore-purity!
2. Mineralisation
Bountiful in minerals, soaking in the salt solution encourages dermal absorption, a modus operandi of soaking up all the available minerals into the epidermis to unlock their advantages.
Himalayan rock salt is rich in many key minerals we require, including: copper, iodine, iron, magnesium, manganese, phosphorus, potassium, selenium, sodium and zinc. Minerals are essential for growth and development of most tissues and cells and ensure our overall wellbeing. Salt baths are an efficient and enjoyable way of obtaining these vital substances.
3. Exfoliation
Honey, don't be hasty! These salts can have just as many benefits out of the water as they can in it.
Take a small amount into your palm and rub across the skin in large circular motions to dislodge dead skin cells and replenish the skin. Plunge into the hot water and feel the residues dissolve away, leaving you with irresistibly soft and revived skin.
4. Restoration
Hippocrates was certainly correct in his acknowledgement of its healing qualities; there are significant health benefits associated with using the native salts in your bath.
Recent research has found Himalayan salt baths are particularly effective in easing the symptoms of arthritis and severe muscle aches as the salts operate to reduce inflammation, which also help improve mobility. The presence of calcium is particularly useful in aiding muscle relaxation.
Of course, the salts work wonders for the epidermis on a cosmetic level, but they can be equally beneficial in combatting medical skin conditions. Due to their antiseptic, antibacterial and anti-inflammatory capabilities, the rock salts can relieve painful conditions such as acne, eczema and psoriasis along with soothing burns, bites and cuts. The salts improve skin hydration and create a natural protective film around the skin, demonstrating preventative properties as well as its healing potential.
5. Respiration
Both balneotherapy and thalassotherapy recognise inhaling the steam from waters infused with Himalayan bathing salts as an established treatment of respiratory issues.
Run a hot, steamy, infused bath and let the vapours clear your sinuses and provide ultimate relaxation!
6. Relaxation
Perhaps most importantly, a Himalayan salt bath is the height of relaxation.
The combination of sweet aromas, infused vapours, silky-smooth waters and cleansing capabilities is the perfect recipe for a well-earnt wind down.
The minerals contained are also said to resonate with the natural frequencies of your body's organs which promotes self-healing for the ultimate soothing experience.
The Range
Our new collection is your key to unlocking the "six 'ations" you deserve. Each 500g pack contains pure Himalayan rock salts, infused with a unique blend of 100% essential oils targeted to promote a different area of revitalisation, combined with a sweet and pleasurable aroma. Essential oils are extracted from plants and are clean from chemical contamination, providing naturally beautiful scents and possessing a broad array of aromatherapeutic capabilities. Vegan friendly & cruelty free, these all natural bathing remedies are perfect for bath time.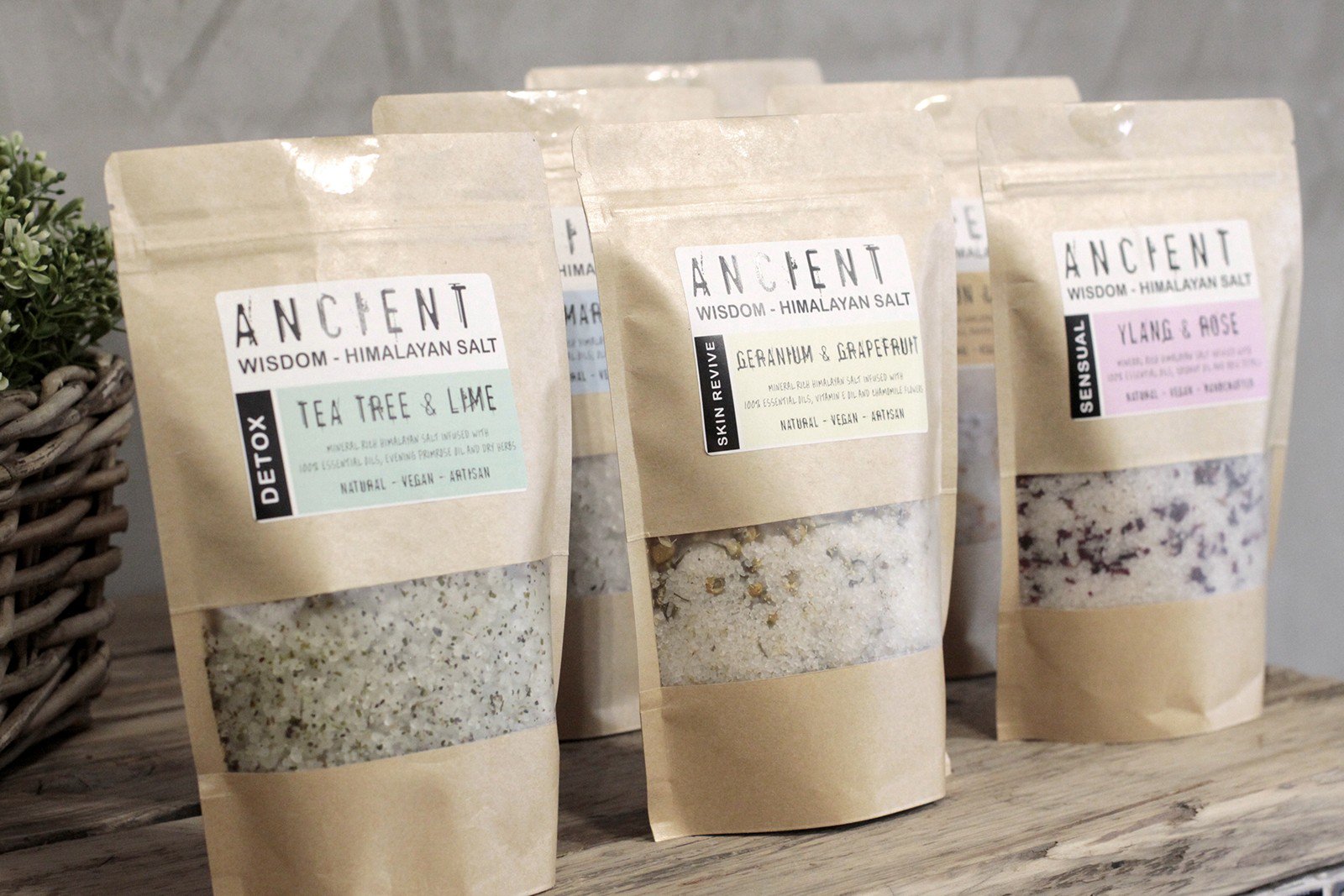 Priced at just £9.95, the six new blends include:
- Lavender & Seeds with jojoba Oil for Relaxation
- Geranium & Grapefruit with Vitamin E Oil for Revival
- Ylang Ylang & Rose with Coconut Oil for Sensuality
- Rosemary & Clary Sage with Olive Oil for Clarity
- Tea Tree & Lime with Evening Primrose Oil for Detoxing
- Lemon & Ginger Orange with Avocado Oil for Energising
Upgrade your purchase for just £1.95 to make it complete with your own wooden scoop for perfect distribution. Don't wait any longer, treat yourself today!